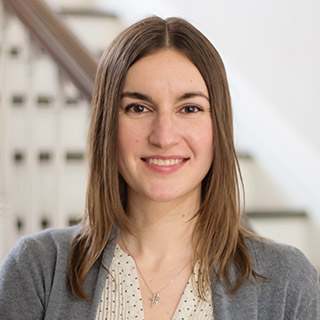 Tiffany Sokol is the Housing Director for the Youngstown Neighborhood Development Corporation. She leads a team of professional staff in the development and implementation of housing programming, pursuit and administration of grant funding, financial management, and management of organizational communications and marketing.
Prior to joining the YNDC team,
Tiffany gained diverse experience with careers in sales, business administration, and marketing project management.
Tiffany holds a Bachelor of Science in Business Administration degree from Youngstown State University in Marketing Management and Advertising and Public Relations. She is an NCHEC and HUD-Certified Housing Counselor, a National Development Council Housing Development Finance Professional, and a licensed Realtor with Branches Real Estate. She also serves on the Board of Directors of the Ohio Community Development Corporation Association. 
Tiffany received the OCDCA Stephanie J. Bevens Award in 2015, was selected as a 25 under 35 honoree by the Mahoning Valley Young Professionals in 2016, received the OCDCA Rising Star Award in 2017, was honored at the Community Foundation of the Mahoning Valley's 2019 Gems of the Valley, and was named a WYTV Hometown Hero in 2019. 
Tiffany is an active church member and deeply invested in supporting the youth in her community. She lives on Youngstown's south side with her dog, Fiona.
Contact Tiffany at tsokol@yndc.org.