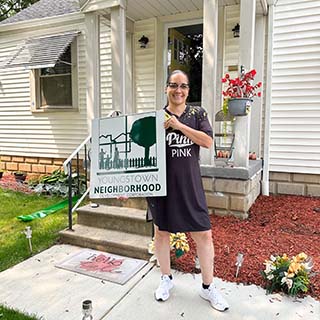 Tuesday, August 15, 2023. 
Jesica has lived in Youngstown since she was five years old. After living in a YNDC rental for three years, she purchased a YNDC home in April. She takes great pride in her home and has put a lot of work into making it look fantastic, inside and out! Her yard is adorable, with numerous flowers and plants and matching red mulch. "I love my nice cozy yard," she said.
Her favorite part about her new neighborhood is how peaceful it is.  She had been looking for a Cape Cod style home to share with her son, and she was so happy to find this one. Jesica had been building her credit for years, making good financial choices and saving money so she could purchase her own home. She would recommend a YNDC home to others because everything had been updated and upgraded, and the home was ready for her to put her finishing touches and move right in. She said, "I love the house. It's comfy."
Congratulations Jesica! Thank you for your investment in Youngstown's neighborhoods and best wishes in your new home!