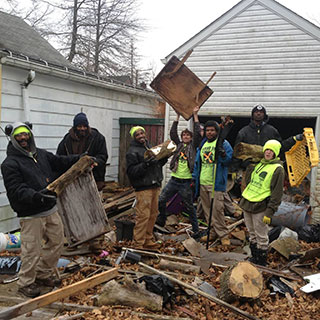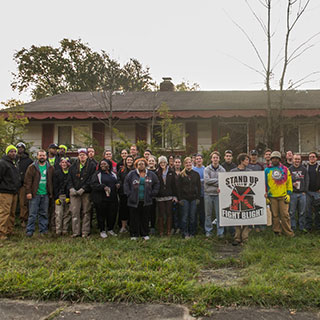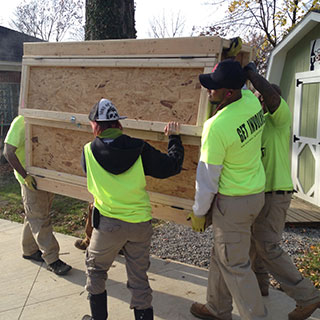 Sunday, November 30, 2014
The AmeriCorps REVITALIZE team has been busy at work to eliminate blight in neighborhoods across the City of Youngstown.
The AmeriCorps REVITALIZE team is a team of 10 AmeriCorps State members led by Program Coordinator Chris Nichols to board up, clean up, and rehabilitate vacant homes in Youngstown's neighborhoods. These AmeriCorps community service members, all residents of the City of Youngstown, serve for a period of 1 year at YNDC, which started on September 2, 2014. To date, 138 properties have been improved by the AmeriCorps REVITALIZE Team, including:
127 vacant properties boarded or otherwise cleaned up,

2 homes of owner-occupants repaired,

Assisted in construction of 1 Habitat for Humanity house,

2 vacant lots repurposed, and

6 vacant homes rehabilitated.
The highlights of the team's impact on eliminating blight include:
413 abandoned tires removed

65,450 gallons of trash removed in contractor bags.

36 tractor trailers of blight hauled away in dump trucks and dumpsters.

Over 1 mile of overgrown sidewalk cleaned up and brought back into use.

Over 600 boards cut for securing vacant homes.
This work has taken place in all of the following neighborhoods to date:
Brier Hill

Crandall Park

East High

Idora

Lansingville

Lincoln Knolls

McGuffey Heights

Newport

Oak Hill

Pleasant Grove

Powerstown

Wick Park
The team is presently working in the Newport neighborhood on the city's south side, where they are working to clean up and secure nearly 70 vacant homes as part of an effort to implement the Newport Neighborhood Action Plan.