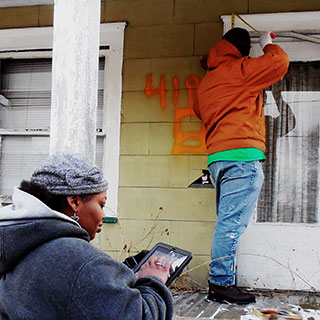 Wednesday, December 31, 2014
Late in 2014, YNDC began working with Code Youngstown to develop a mobile app that would streamline the process for boarding up vacant homes.
YNDC has significantly increased the scale of vacant home boarding beginning in September 2014 with the AmeriCorps REVITALIZE Team. This required a more efficient system for measuring and recording board sizes in order to keep pace with the new team. Within just a few weeks of learning of YNDC's need, Code Youngstown had created an open-source mobile app and desktop interface that significantly reduces office time and paperwork required to prepare work plans for board ups.
Since September 2014, YNDC's AmeriCorps REVITALIZE Team has boarded 167 houses in the following neighborhoods: Lincoln Knolls, Newport, the Garden District, Handel's, Pleasant Grove, Brier Hill, Oak Hill, Fosterville, and Brownlee Woods.
Code Youngstown is a group focused on connecting software engineers, developers and coders in the Youngstown, OH area. They aim to bring together coders of all ages, genders, and experience levels through events, meetups, and open source software development.