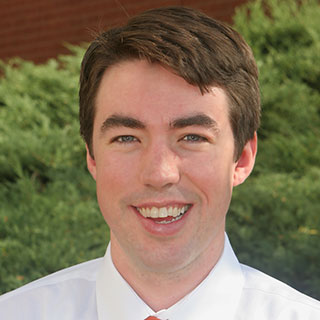 Monday, June 16, 2014
The Board of Directors of the Youngstown Neighborhood Development Corporation (YNDC) has selected Ian J. Beniston as Executive Director.
Ian has spent the past five years as YNDC's Deputy Director and previously served as a consultant to YNDC's Board of Directors in the organization's initial development phase.
Ian brings nine years of urban planning and neighborhood development experience in the private, non-profit, and public sectors. He was selected earlier this year as a Next City Vanguard which recognizes the work of "40 under 40" making an impact in cities across America. Ian holds a Master of City and Regional Planning from The Ohio State University, a Bachelor of Arts in Sociology from Youngstown State University, and has studied at the Technical University of Dresden in Dresden, Germany. He is also a member of the American Institute of Certified Planners. Ian resides in Youngstown with his wife, Krista and Irish Wolfhound, Keira.
"I'm very excited for the opportunity to lead YNDC and look forward to continuing the development of a highly collaborative model with many partners focused on stabilization and revitalization of neighborhoods across the City of Youngstown," said Ian J. Beniston, YNDC Executive Director.
Lisa Metzinger, President of the Board of Directors of YNDC, says, "We are fortunate that Ian has been an integral part of YNDC since its inception and that he possesses not only the knowledge and experience, but the passion and the vision to foster growth and success for the organization. We are confident that, under his leadership, YNDC will continue to transform our neighborhoods and make a positive impact in our City."