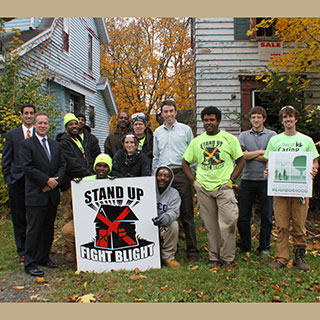 Thursday, October 30, 2014
The PNC Foundation provided $10,000 to support YNDC's Model Block Program in 2014, which helped to offset the material costs of our comprehensive effort to stabilize Youngstown's neighborhoods, one block at a time.
In 2014, YNDC has significantly strengthened its Model Block programming by increasing the scale of its volunteer workdays and through the creation of the AmeriCorps REVITALIZE team, a group of 10 community service members who will serve with YNDC boarding up, cleaning up, and rehabilitating vacant properties on Model Blocks throughout the city. To date, YNDC has cleaned up and otherwise improved over 120 vacant properties in 2014 alone. YNDC anticipates this figure to increase to over 200 vacant properties a year by the end of 2015.
To learn more about the Model Block program, please see the Model Block page on our website.