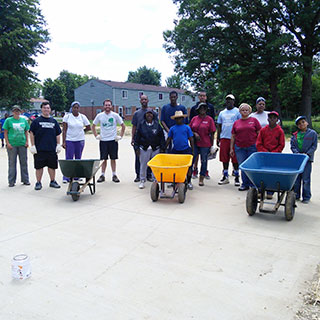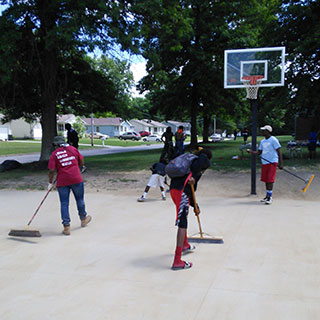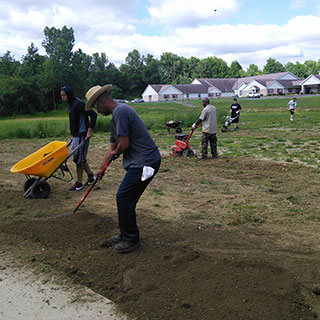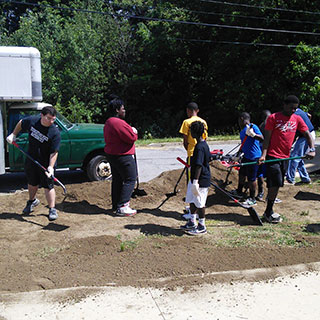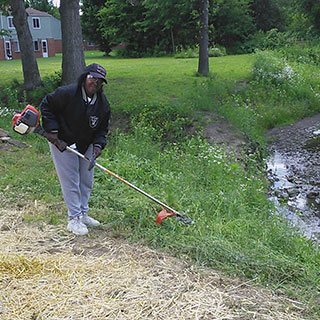 Monday, June 16, 2014
On Saturday, June 14th, volunteers from the Lincoln Knolls Community Watch, Alpha and Omega First Baptist Church, and YNDC, alongside youth from the neighborhood and residents from across the east side, participated in a workday in the Lincoln Knolls neighborhood on Youngstown's east side in partnership with Councilman TJ Rodgers, Sly's Landscaping, and Green Youngstown (RUBY).
Volunteers cleaned up a new basketball court in preparation for contractor improvements and seeded grass on a formerly muddy and weedy park area adjacent to the court. Participants tilled the ground, removed rocks, spread 13 yards of topsoil over the site, and spread grass seed and straw. Contractor work will be completed by the end of the month and the court will be striped to significantly improve the well-used neighborhood court. Thank you to all of our volunteers for another great workday!
The next neighborhood workday is schedule for Saturday, June 21st from 9:00 am to 1:00 pm at Iron Roots Urban Farm in the Idora Neighborhood. Volunteers should meet at 820 Canfield Road.
For more information about the next workday or to get involved in other neighborhood revitalization efforts, please contact Jack Daugherty via email at jdaugherty@yndc.org or via phone at 330.480.0423.