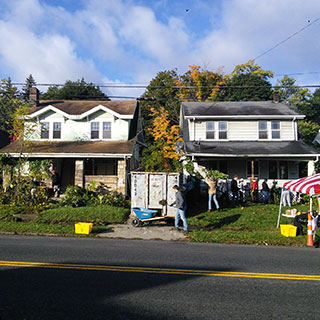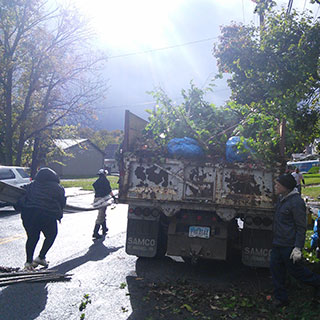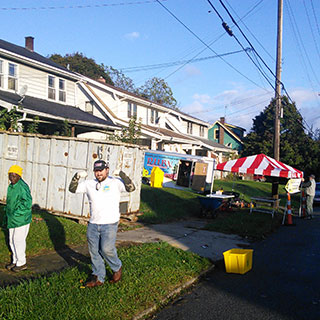 Monday, October 6, 2014
On Saturday, October 4th, residents and community volunteers cleaned up five vacant homes in the Powerstown neighborhood on the southeast side of Youngstown.
This event was coordinated by the Powerstown Action Team, a committee of residents and stakeholders aimed at improving conditions and quality of life in the Powerstown neighborhood by implementing the Powerstown Neighborhood Action Plan. This is the second community workday that the Team planned this year, to include the clean up of a total of 14 vacant homes in the neighborhood between the two events. Groups represented on the Powerstown Action Team include the 7th Ward Citizens' Coalition, the Powerstown Block Watch, The City of Youngstown, the Mahoning County Land Bank, and YNDC. Lunch was sponsored by Sherry DeMar of DeMar Realty. Green Youngstown provided the R.U.B.Y. tool trailer, gloves, water, trash bags, and tire removal for the event.
Participants at the event included residents from the neighborhood, students from Youngstown State University's YSUScape community service club, and YNDC's AmeriCorps REVITALIZE Team. Over 40 cubic yards of blight were removed and 3 of the 5 homes were boarded and secured. The work of the Powerstown Action Team will continue throughout the winter and additional community projects are planned for the Spring of 2015.