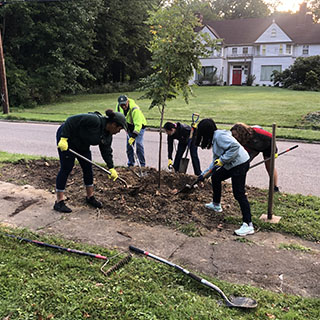 Monday, January 23, 2023. 
On Tuesday, January 3, the Western Reserve Health Foundation, a supporting organization of the Community Foundation of the Mahoning Valley, awarded a $60,000 grant to Youngstown TreeCorps, which is a collaborative initiative to plant 250 two-inch caliper shade trees in parks and greenspaces throughout the City of Youngstown in order to restore the urban tree canopy by strengthening existing community-based tree planting efforts.

YNDC is serving as the fiscal agent and project lead on behalf of the Healthy Community Partnership and over a dozen community organizations and neighborhood groups who are working together to plant shade trees in neighborhoods across the city. The project evolved from YNDC's existing tree planting work and the Healthy Community Partnership's ongoing effort to foster collaboration in order to improve parks and greenspaces and community health outcomes. Many thanks to the Western Reserve Health Foundation and the Healthy Community Partnership for supporting this collaborative tree-planting effort!