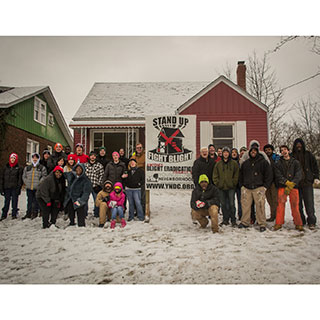 Tuesday, January 20, 2015
On Monday, January 19th, volunteers gathered together in the Taft Elementary School parking lot on Youngstown's south side to board up and clean up 13 vacant and blighted homes on the 500 and 700 blocks of East Boston and East Avondale Avenues.
These vacant and blighted properties lie directly in the path of youth walking to school.
The event was coordinated by members of YNDC's AmeriCorps VISTA project, with Anika Jacobs-Green, Community Revitalization VISTA, as the event coordinator. All members of YNDC's VISTA team participated in the event, along with the AmeriCorps REVITALIZE team. Dozens of community volunteers from across the city and from Youngstown State University's YSUScape civic organization were in attendance.
The event was sponsored in part by the City of Youngstown, the Yo Doughnut Company, Marco's Pizza, SAANDI, and the Corporation for National and Community Service, and ServeOhio. Over 2 tractor trailers of brush and trash and 47 tires were removed from the vacant homes addressed at the event.