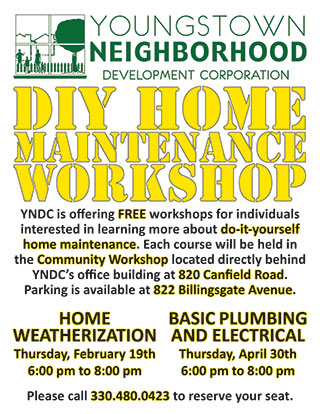 Monday, February 2, 2015
YNDC is offering FREE workshops for individuals interested in learning more about do-it-yourself home maintenance.
Each course will be held in the Community Workshop located directly behind YNDC's office building at 820 Canfield Road. Parking is available at 822 Billingsgate Avenue.
HOME WEATHERIZATION: Thursday, February 19th, 6:00 pm to 8:00 pm
BASIC PLUMBING AND ELECTRICAL: Thursday, April 30th, 6:00 pm to 8:00 pm
Please call 330.480.0423 to reserve your seat.