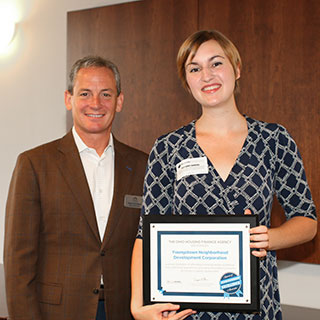 Thursday, June 19, 2014
On Wednesday, June 18th, the Ohio Housing Finance Agency (OHFA) presented YNDC with the Spirit of Homeownership Excellence Award for the organization's Community Loan Fund (CLF) program.
The award, created to honor innovation and quality in the affordable housing industry during National Homeownership Month, is presented to one organization each year, recognizing its contributions in promoting homeownership opportunities and accessibility.
In 2012, YNDC partnered with the City of Youngstown, OHFA, the Home Savings and Loan Company and the Raymond John Wean Foundation to develop the $1 million fund for the purpose of increasing homeownership in strategic neighborhoods by extending first mortgage financing to prospective homebuyers who fall short of standard industry requirements. The first program of its kind operated by a CDC in the State of Ohio, the CLF has financed 18 first mortgages for new homeowners to date, while providing the education and accountability necessary to ensure their long-term success, including post-purchase homeownership counseling, home maintenance education, and wealth building through monitored homeownership reserve accounts.
OHFA facilitates the development, rehabilitation and financing of low- to moderate-income housing. OHFA's programs help first-time homebuyers, renters, senior citizens, and others find quality affordable housing that meets their needs. For more information on the Ohio Housing Finance Agency please visit www.ohiohome.org.