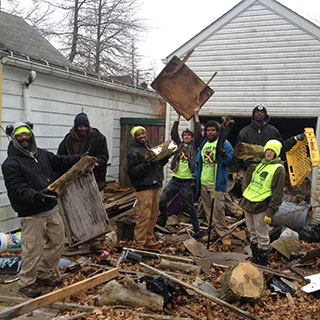 Thursday, July 9, 2015
The Youngstown Neighborhood Development Corporation (YNDC) seeks 13 hard-working individuals interested in strengthening their skillset and experience in basic construction, landscaping, and property maintenance through the completion of projects to stabilize neighborhoods in Youngstown, Ohio.
These are one-year, full-time national service positions through the AmeriCorps State Program sponsored by ServeOhio. A modest living allowance and a basic health plan option are provided to all members. Eligibility for a Segal Education Award upon successful completion of service can help to pay your way through trade school, college, or student loan debt!
Members serving at YNDC will be predominantly engaged in the following five neighborhood stabilization activities: 1) clean up and conduct landscaping work on vacant lots and develop long-term reuse strategies with neighborhood residents and stakeholders, 2) board and secure vacant and blighted structures to make them safe and preserve them for possible rehabilitation, 3) make repairs for low-income households to help sustain affordable homeownership in the city, and 4) conduct repair and rehabilitation work on vacant homes to recreate high quality affordable housing opportunities in Youngstown, Ohio, and 5) provide ongoing landscaping services to vacant properties. This work will be completed in accordance with publicly-adopted neighborhood action plans.
Basic experience in construction or landscaping is preferred but not required, as training will be provided by YNDC for all work assignments. Free EPA Lead Repair and Renovation Certification training and other education advancement opportunities will also be provided. Work schedule flexibility will be provided to all members enrolled in college or Ohio ABLE courses during their year of service. Some weekend and evening service will be required.
To apply, please complete an application in person at YNDC: 820 Canfield Road, Youngstown, Ohio 44511. NO PHONE CALLS PLEASE.