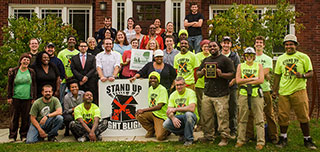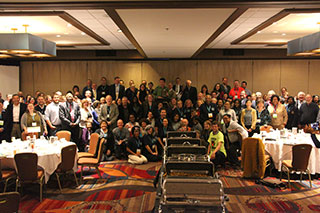 Tuesday, October 14, 2014
On Friday, October 10th, the Youngstown Neighborhood Development Corporation (YNDC) was presented the CDC of the Year award by the Ohio Community Development Corporation Association (OCDCA) at its 30th annual conference in Dayton, Ohio.
YNDC was selected by a panel of third-party judges for its outstanding work over the past twelve months.
"This is an exciting acknowledgement of the tireless and outstanding work of our team, board of directors, partners, funders, the City of Youngstown, and the countless residents engaged in our work. We must continue to build on our collective success to increase the scale of our impact on more people and neighborhoods throughout the City of Youngstown," said Ian Beniston, YNDC Executive Director.
"To be selected as CDC of the Year is a testament to the impact that YNDC is having in our community. It is truly an honor to have the efforts of our team and supporters recognized at a statewide level," said Lisa Metzinger, President, YNDC Board of Directors.
REVITALIZE.